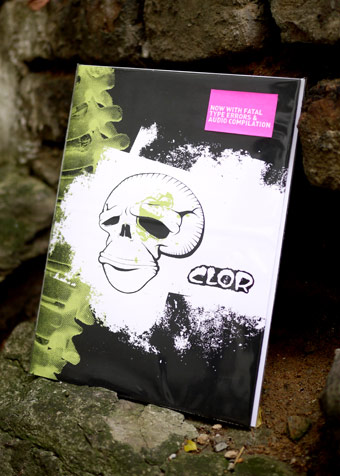 ---
it is about:
CLOR is a screen printed art zine that features 12 international graphic artists in its initial issue. The focus is on the handmade and handcrafted part of the project, classic ink illustrations, vector art and some other interdisciplinary forms of illustration methods are combined in a fully hand-screen-printed and -bound mag. Every issue and page of these 200 magazines are unique, unlike the flood of conventionally printed art-books.
All of the 12 graphic-artists, involved in this first issue have created one single page and here they are (in random order):
Tarkinson, Germering (Germany)
Nose Go, Philadelphia (USA)
Mike Friedrich, Berlin (Germany)
Mr. Purty, Atlanta (USA)
Filthy Hors, Leeds (UK)
DIMAK, Bahia (Brazil)
J. Chris Johnson, Norman (USA)
Tituz aka Titus Leibing, Coburg (Germany)
Jeff Lamm, Akron (USA)
J.T.G., Curitiba (Brazil)
Zombie Arms, (UK)
Rosakatze, Mainz (GER)
printed at dasviadukt.at
it features:
12 Pages + Poster
12 International Artists
Handmade
kid005 - Compilation attached
CLOR is necessary for everyone. Order now!
Order CLOR#1:
CLOR#1 + kid005 Compilation + Sticker & Pin (+T-Shirt)
---
If you got no CreditCard or PayPal, contact us via Email.
---
kid005 - cranks lacking oculus remedy
Beyond that, there is a CD attached with the same purpose as the mag - to bring different artists with diverse styles and backgrounds together. The team of the Austrian-based label polarised kids compiled 14 tracks, not only featuring its own artist rooster... some of the most magnificent abstract hip hop & indietronic artists out there delivered their contributions to form a complementary entity to the art book.
1. Oskar Ohlson, Bizzart & Plus - Untitled 95
2. Edison - My Allegiance
3. Thesis Sahib - Plastic Spoon Remix
4. Aas der Basis feat. Th'Mole - Kindergarten Angst
5. Kid Copy - Paint Sniffah
6. Surehand - Grab Grab
7. Nikolas Darius - PolarSommerPuls
8. Lost on Arrival - Separate from Alpha
9. Food for Animals - Space Lounge (Freestyle)
10. Th' Mole feat. tang li wheebs - Amplitude
11. 10Shun vs Youth:Kill - 10Shun's Findmuck Remix
12. 6.R.M.E - Effilera
13. Aas der Basis - Donnerwitz
14. Thesis Sahib - write off the top